Opioids and our youth…..HOPE is NOT a strategy to protect our kids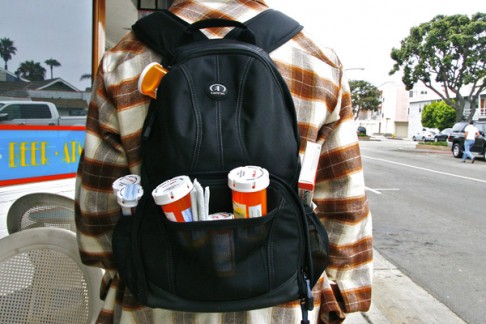 The following Opioid "big picture" brief will help you understand our growing Opioid Youth crisis….. 
Chronic pain affects approximately 100 million U.S. adults and costs society at least $560-635 billion annually (an amount equal to about $2,000 for everyone living in the United States).
This complicated national healthcare problem of chronic pain has caused an explosion in prescription medication consumption (mainly opioids) resulting in a tragic increase in deaths from overdose.
Despite more opioids being consumed the number of individuals suffering from Chronic Pain continues to increase.  We now have an "epidemic" of opioid addiction, resulting in more deaths caused by accidental opioid overdose per year surpassing the number of deaths caused by motor vehicle accidents.
Each day, 46 people die from an overdose of prescription painkillers in the US with another 54 people dying everyday from illegal drug overdosing. Overdosing  is now the leading cause of accidental death in the United States, accounting for more deaths than traffic fatalities or gun homicides and suicides. Fatal overdoses from opiate medications such as oxycodone, hydrocodone, and methadone have quadrupled since 1999, accounting for an estimated 16,651 deaths in 2010.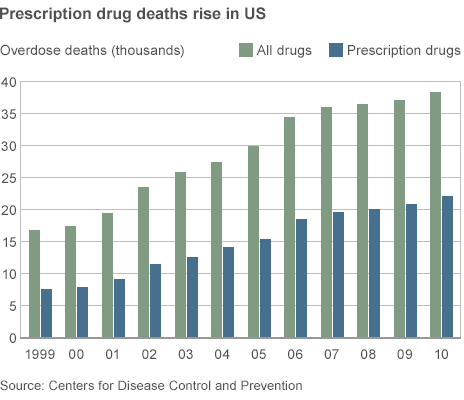 Click on the following link to read more:
The following few charts will serve as reference illustrating the enormity of this complex national health crisis:
100 people die from drug overdoses every day in the United States: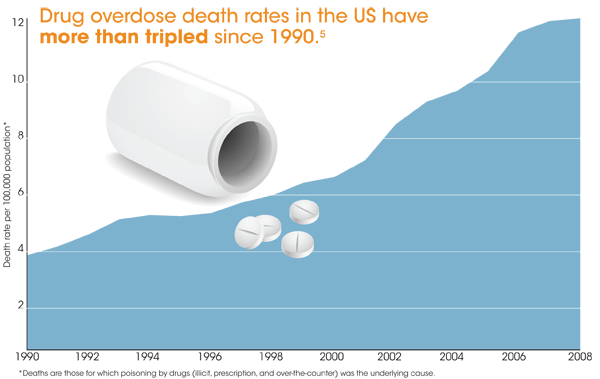 Some states have more painkiller prescriptions per person than others: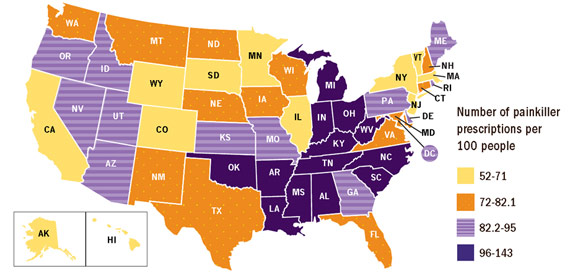 Click on the following to learn more:
Rates of prescription painkiller sales, deaths and substance abuse treatment admissions (1999-2010):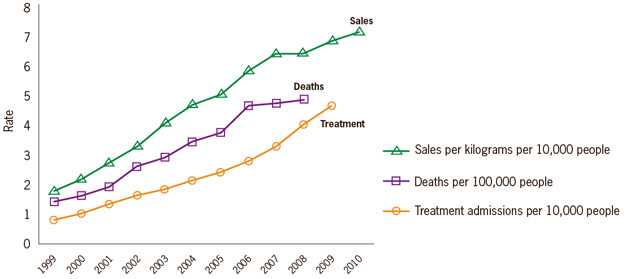 Click on the following link to learn more:
Drug U.S. overdose death rate in 2008 and rate of kilograms (kg) of opioid pain relievers (OPR) sold in 2010….where more is sold the higher overdose deaths: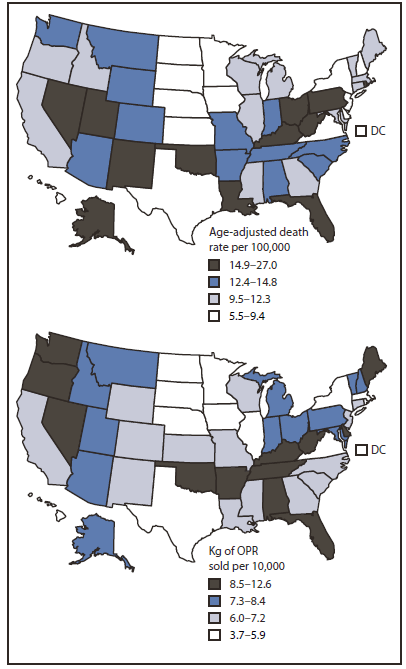 Public Health impact of Opioid Overdose: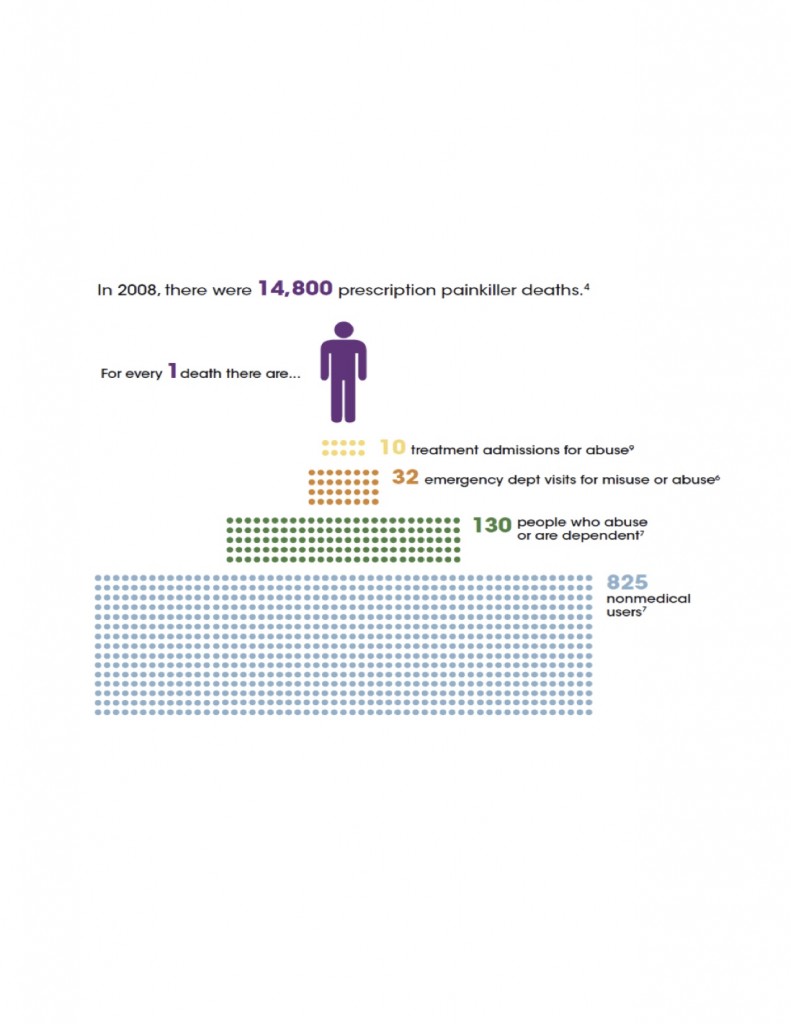 As you can see our Nation has a prescription drug medication problem with painkillers (opioids) at the center of the tragedy.
The role of prescription painkillers (Opioids):
Opioids have a long and complicated history as the medication of choice for pain.

Click on mypainweb to obtain extensive historical, practical and categorical Opioid details and related information.  

Although many types of prescription drugs are abused, there is currently a growing, deadly epidemic of prescription painkiller (Opioid) abuse. Nearly three out of four prescription drug overdoses are caused by prescription painkillers—also called opioid pain relievers. The unprecedented rise in overdose deaths in the US parallels a 300% increase since 1999 in the sale of these strong painkillers.4 These drugs were involved in 14,800 overdose deaths in 2008, more than cocaine and heroin combined.
More than 12 million people reported using prescription painkillers for non-medical reasons in 2010, that is, using them without a prescription or for the feeling (euphoria/high) they cause.
Click on the following link to learn more:
CDC Prescription Painkiller Brief
What are the names of the prescription medications most often misused/abused?
Pain Medication:
Opioid analgesics (narcotics*) –prescription pain medications
*Most associated with overdoses nationally*
Oxycodone (OxyContin®)
Hydrocodone (Vicodin®)
Methadone
Fentanyl – often used as a patch (transdermal application)
Morphine
Central Nervous System Depressants:
Benzodiazepines – anxiety/sleep – Diazepam (Valium®), alprazolam (Xanax®), etc.
Where do people who abuse these prescription painkillers get them?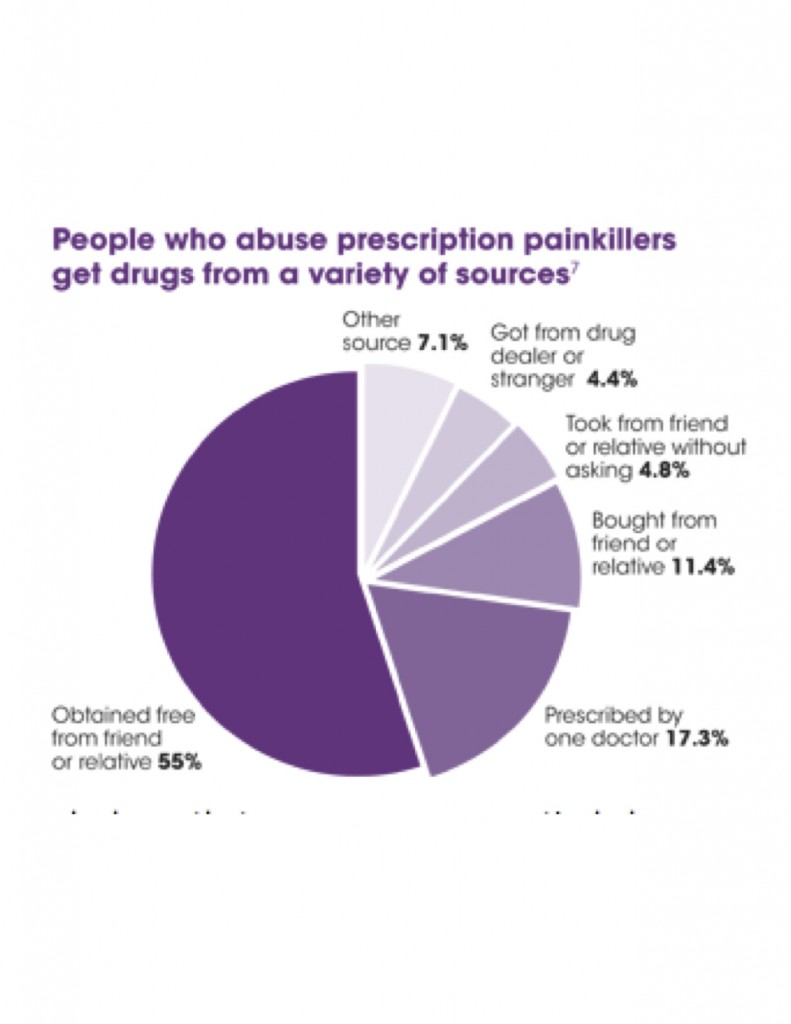 How much opioid medication are we talking about?
We currently manufacture 20 billion tablets of only hydrocodone (Vicodin) and oxycodone (OxyContin) prescription painkillers (that's just two types of opioids) annually to fill U.S. health care provider's 259 million prescriptions for opioid painkillers in 2012 alone.
Click on the following links to read more:
Let's look at the production quotas for just two popular opioids: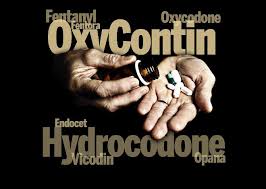 Opioid production is managed by the DEA.
Oxycodone :
In 2002, the quota for oxycodone available for sale was 34,482,000 grams increasing to 105,500,000 grams in 2010.  A 206% increase in the oxycodone quota in 8 years!
The DEA decreased the quota to 98,000,000 grams in 2011.
OxyContin:
In 2010, the quota for OxyContin, available for sale was15,050,000,000 (for ten milligram tablets)  and 1,881,250,000 (for eighty milligram tablets)
Click on the following link to read more:
What is not being effectively communicated is the catastrophic impact these devastating trends are having on our youth.
Our youth's opioid usage reveals some alarming trends and statistics:
Some of our kids receive opioids directly from the prescribing doctor for medical use.  The majority:however, obtain and use opioids for non-medical use (opioids not prescribed by a doctor to the individual)…..taking opioids for the euphoria (high)
"Misuse" is another problem; taking too much opioid medication.
Adolescent males who participate in sports may have greater access to opioid medication, which puts them at greater risk to misuse these controlled substances.
Currently, nearly 7.5 million adolescents participate in sports at the high school level. However, it is reported that 2 million high school athletic injuries occur each year, and roughly a quarter of emergency department visits among children and adolescents are the result of sports-related injuries.  Controlled medications prescribed to adolescents during visits to emergency departments and hospital-based outpatient clinics almost doubled between 1994 and 2007, with opioids being the most frequently prescribed (i.e., roughly 3.5% in 1994 versus roughly 6% in 2007) . Despite the therapeutic benefit of opioid medications to alleviate pain, these medications are misused in a variety of ways among youth. For instance, the 2011 Monitoring the Future (MTF) study indicated that 8.7% of 12th graders indicated using prescription opioids (e.g., hydrocodone bitartrate and acetaminophen) without a doctor's orders (i.e., non-medical use) during the past year.
In one particular study, 1,540 adolescents (middle and high school students) participated in the data collection occurring between the 2009–2010 and 2011–2012 school years.
For non-medical use of opioid medications, 10.7% of respondents indicated non-medical use of opioid medication on at least one occasion and 4.5% indicated non-medical use of opioid medications on three or more occasions during the 3-year study period.
Click on the following link to read more:
Opioid Medication among adolescent Sports Participants
A few more concerning statistics: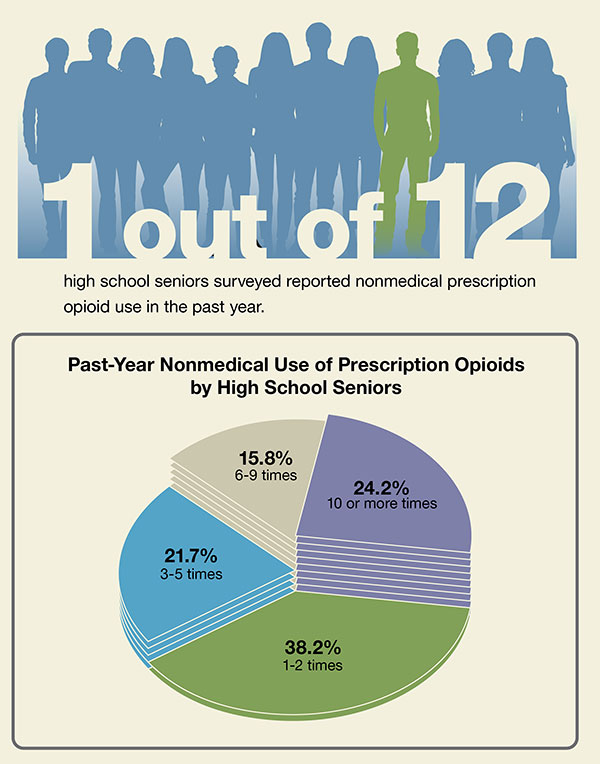 According to the 2009 National Youth Risk Behavior Survey, approximately 20% of high school students reported having taken a prescription drug at some point in their lives without it being prescribed for them.
Results from the 2010 Monitoring the Future Survey show prescription and over-the-counter medications second only to marijuana in illicit drug use among 12th graders. Past year non-medical use of Oxycontin held steady for all grades surveyed and has increased among 10th graders over the last 5 years.
According to the National Youth Risk Behavior Surveillance System (YRBSS), in 2011 approximately 21% of high school students reported having taken a prescription drug at some point in their lives without it being prescribed for them (YRBSS 2012).

The use of powerful opioids among high school seniors is more common than you think: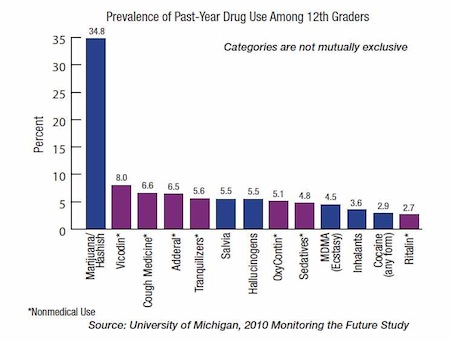 Click on the following links to read more:
Prescription drug use among teens
Most Common Drugs Among 12th Graders
Opioid Use Among High Schoolers
Opioid Youth Crisis hits close to home:
Here are a few statistics from Ohio:
In Ohio, prescription opioids are associated with more fatal overdoses than any other prescription or illegal drug including cocaine and heroin combined.
Nearly half (45%) of fatal overdoses involved prescription opioids in 2010, compared to 39% in 2009.
On average from 2007-09, there were 19 ED (emergency department) visits each day in Ohio for unintentional drug overdose amounting to nearly 2,000 per year. At least 1 in 5 (19%) of these are related to opioids.
The following graph shows unintentional drug poisoning deaths of Ohio residents byspecific drug(s) as mentioned on the death certificate andby year, 2000-2010: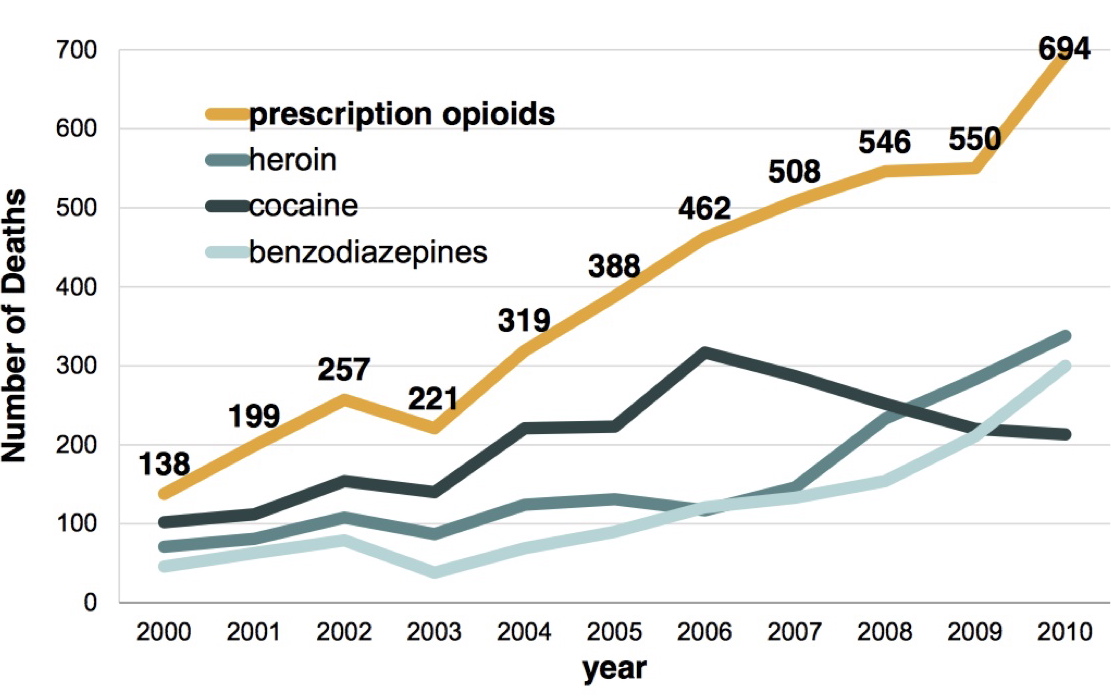 Teens and Prescription Drug Abuse……
According to surveys:
In 2011, more than 1 in 5 (21%) Ohio high school students reported using a prescription drug without a doctor's prescription one or more times during their life. Of these teens, nearly half (49%) used narcotic pain relievers, 8 percent used multiple drugs and another 19 percent were unsure what they took.
Every day, 2,700 teens abuse a prescription drug for the first time.
8 out of 10 teens who misuse prescription drugs get the drugs from friends or relatives 
Opioid Distribution in Ohio, 2010……
The following graph shows Ohio Pharmacy opioid distribution with subsequent graphs illustrating a few of the tragic results: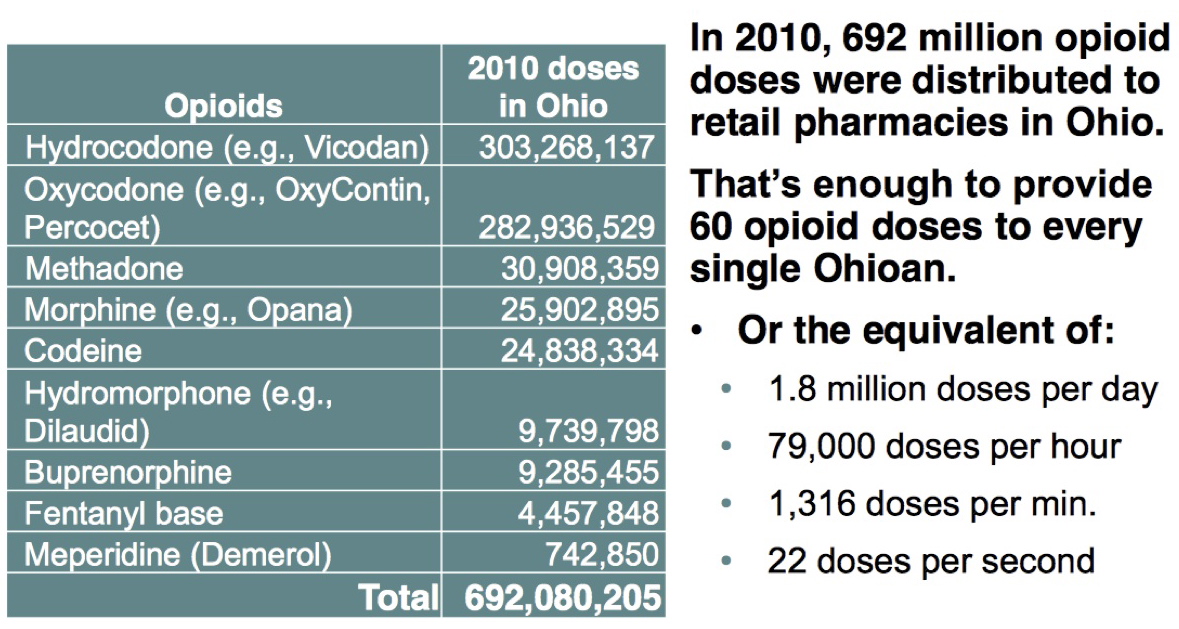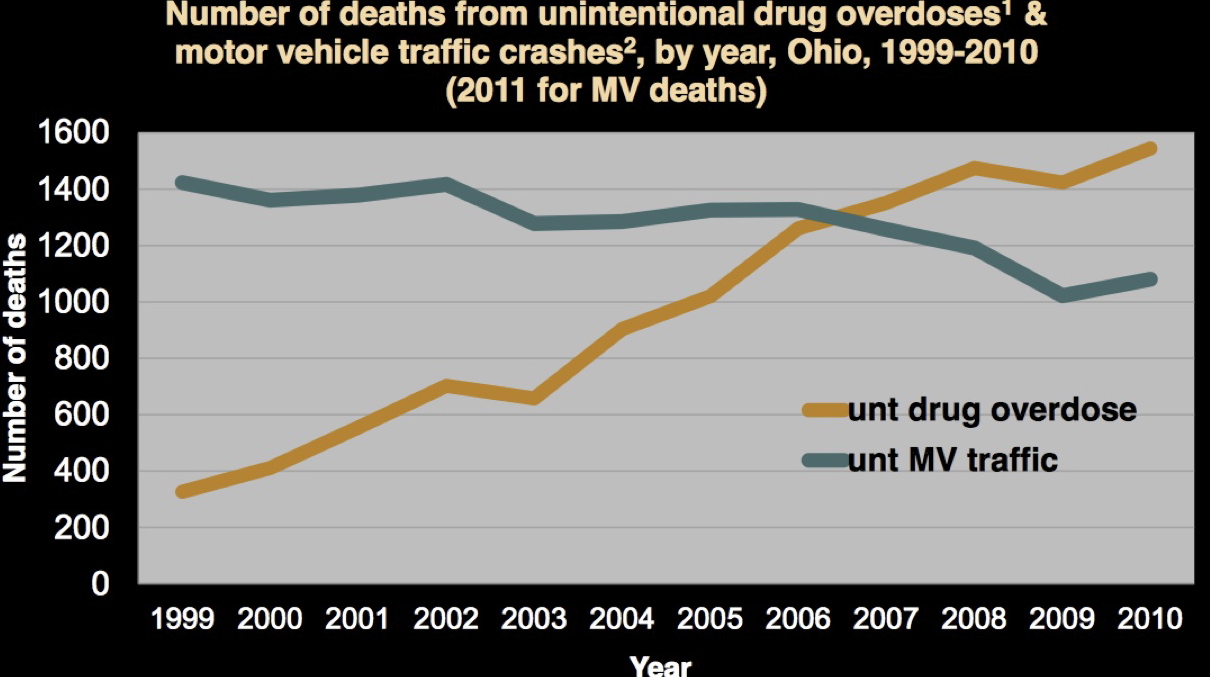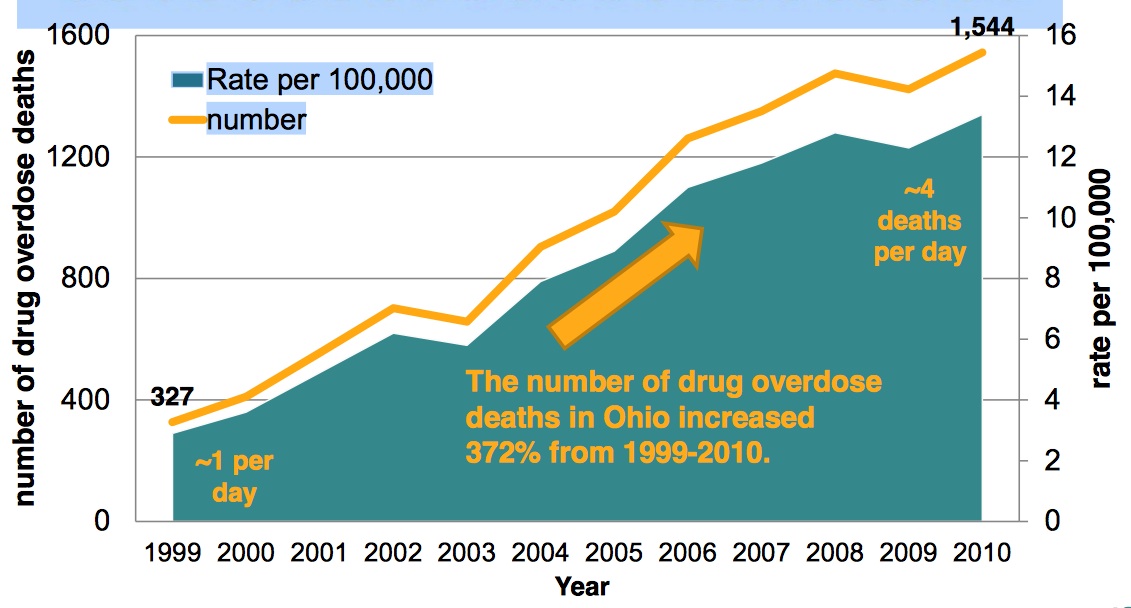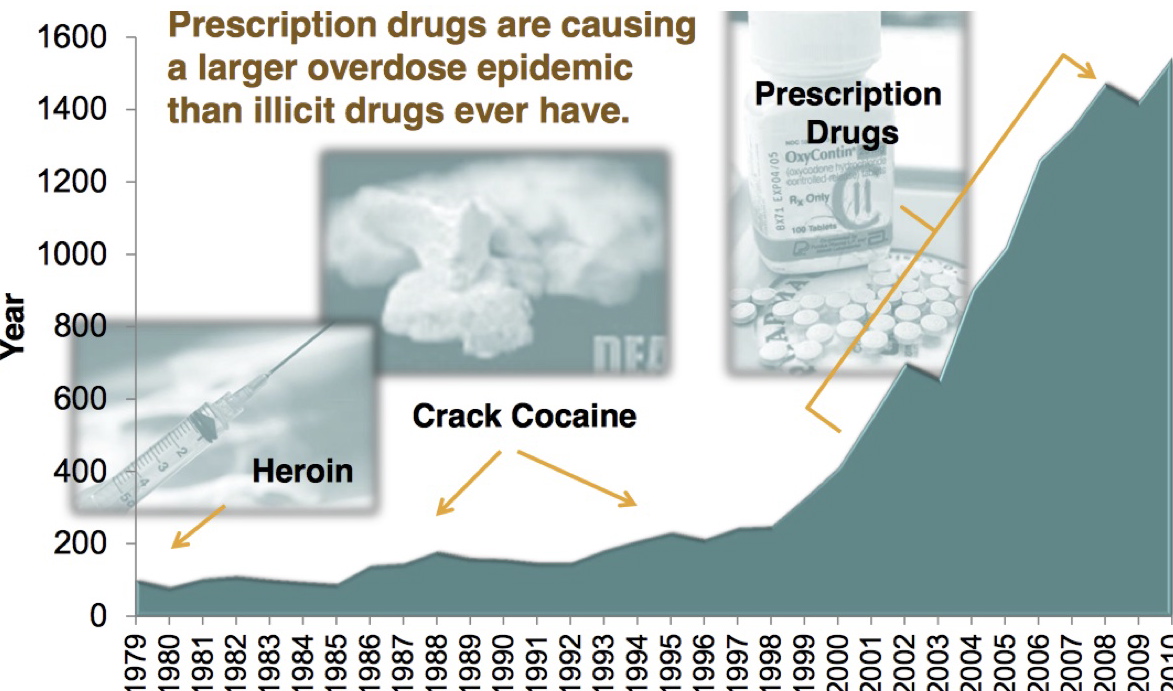 Click on the following link to learn more:
Youth – Access to Medications……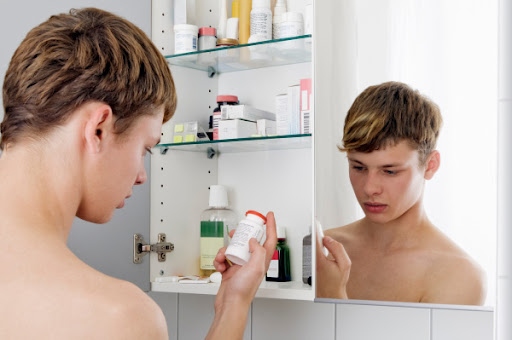 "We need to make sure parents understand that they are the drug dealers. They are the source of supply."
"If someone left crack in your home, you wouldn't set it in the medicine cabinet and walk away. If someone left heroin in your kitchen, you wouldn't set it on a shelf in the cabinet and hope nobody saw it."
-US drug czar John Walters
Among adolescents, opioids are the most popular prescription drugs.  OxyContin use increased for all ages 2002 to 2007.  The annual prevalence of use in 2007 was 1.8%, 3.9%, and 5.2% in grades 8, 10, and 12, respectively.  Vicodin abuse occurred with prevalence rates of 2.7%, 7.2%, and 9.6% grades 8, 10, and 12 respectively.
While white males are the most common demographic among prescription abusers overall, in the younger 12-17 year old age group, girls are more likely to abuse prescription drugs than boys.
A significant factor in the growth of prescription drug abuse is the ease with which these drugs can be obtained. Young people are readily able to secure prescription drugs: 40% of 12th-graders reported that painkillers are "fairly" or "very" easy to get.  The majority of teen syndicate that prescription drugs are easier to obtain than illicit drugs, and more than half say they abuse prescription painkillers because they are not illegal.  Teens also believe that there is less shame attached to using these drugs (33%) and that their parents should not be as concerned if they got caught (21%).  This mirrors the perception among parents that prescription drug abuse is a safer alternative to street drug use.
Nearly two-thirds (64%) of teenagers who have abused prescription drugs reported receiving, buying, or stealing them from friends or relatives; almost half (46%) say they got prescription pain relievers for free from a relative or friend.  Thus, in many cases, the procuring of prescription drugs does not entail the same risks and consequences associated with traditional drug deaing. Another 9% said they bought pain relievers from a friend or relative, while 5% took the drugs without asking.  Only 4% had to resort to buying them from a drug dealer.
Nearly one-third of new drug abusers report that their first experience involved a prescription drug, with 19% citing opioids.16 These data highlight the risks associated with the intentional misuse of prescription drugs and are contrary to the belief among adolescents and their parents that prescription drug abuse represents a safer alternative to street drug use
Click on the following link to read more:
Between 2004 and 2005, an estimated 71,000 children (18 or younger) were seen in EDs (Emergency Department's) each year because of medication overdose (excluding self-harm, abuse and recreational drug use).
The graph below shows Emergency Room visits….note the percentage of 12-17 year olds due to narcotics (opioids):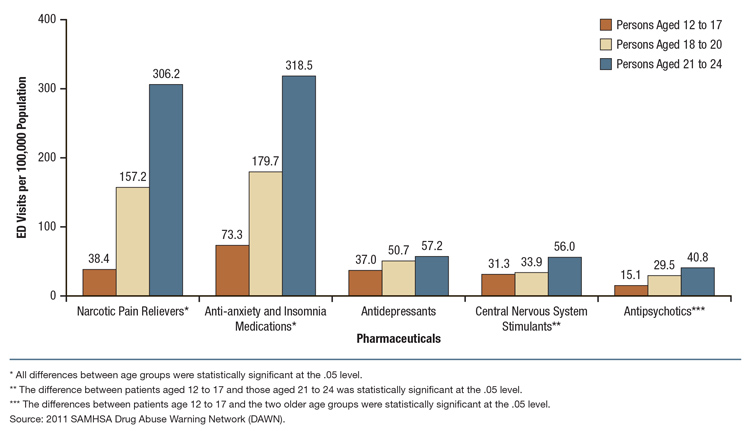 Click on the following link to read more:
CDC Prescription Drug Abuse in the U.S.
What can concerned parents do about opioids? 
Undeniably, the U.S. is in the midst of a national health crises involving prescription opioid painkillers.  The complication & controversy associated with the opioid epidemic has resulted in a polarization of opinion leading to a paralysis on taking appropriate steps to reverse these trends.
In the meantime, the following are a few simple yet effective steps a concerned parent or loved can take to minimize an opioid related tragedy within their family:
1.  Do not leave unused opioid prescription medication in the home.  
The following link contains safe medication discard steps:
FDA: How to dispose of unused medication
Concerned by rising rates of prescription drug abuse, the Drug Enforcement Administration recently announced that it would permit consumers to return unused prescription medications like opioid painkillers to pharmacies.
Click on the following link to learn more:
You can also contact your local police department for more information.
In the very least, secure opioids within the home in the same manner as a responsible parent would lock & secure a firearm within the home.  Opioids have the same tragic potential to be as lethal as a loaded firearm!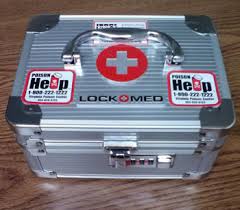 2.  Understand and Take Charge….Do not assume opioids are safe because they are FDA approved, prescribed by your doctor and given to you by your pharmacy.
It's critical you take the initiative to understand Opioid basics.  Visit mypainweb to learn important opioid information and facts.  The following links are a quick way to get started and will only take a few minutes:
Medication: The Good, The Bad, and The Ugly
3.  Question and Question, again!
In the event you find yourself in a medical situation where opioids are being suggested for your son, or daughter, this is your cue to question the medical professional.  It's important to ask:
a)  Why Opioids versus a non-opioid pain reliever? 
There are several non-opioid pain relievers.  Ask about the possibility of using the following:
* Paracetamol (mild analgesic-available over the counter)
* Non-steroidal anti-inflammatory drugs (NSAIDs) – medicines that reduce inflammation (redness and swelling), such as ibuprofen (available over the counter)
* Local anaesthesia block – an injection that a doctor may give directly at the injured area.
* Topical NSAIDs -like Voltaren gel, Pennsaid solution, and Flector patch
 Click on the following links to read more:
Here are a few more non-opioid pain medication options:
* Anticonvulsants – Gabapentin and pregabalin (Lyrica)
* Serotonin and norepinephrine reuptake inhibitors – Duloxetine (Cymbalta)
* Tricyclic antidepressants – like Anafranil and Pamelor
All medications have potential side affects.  Be sure to discuss ALL potential side affects especially reported side affects from the above three medication types.
If your child is in the hospital scheduled to undergo a medical procedure requiring hospital staff to administer opioids be sure to ask about non-opioid alternatives like the following:
* intravenous Tylenol and along with an anti-nausea medication
* anti-inflammatory Celebrex, and Lyrica
* IV Acetaminophen (Ofirmev)
* IV Ibuprofen (Caldolor)
Click on the following to learn more:
Drugfree…non-narcotic approach
b)  If an opioid is explained to be the best option be sure to question What opioid is being suggested, and at What dosage/strength?
     1) Opioid medicines are not created equal.  Below are a few opioid options preferred by pediatric specialists:
* Codeine
* Tramadol
Click on the following link to learn more:
The following is a comprehensive Painkiller Strength Chart.  This is a valuable resource to help you understand, suggest and select the safest pain medication for your child.
c) How often is the opioid to be taken, and for how long?
Be sure opioids are taken EXACTLY prescribed by the physician.  Exactly!  Any changes in how often the opioid is taken MUST be cleared in advance with the doctor before you make any change.
The shortest duration an opioid is taken the better.  Just because the doctor may prescribe a 30-day supply or longer doesn't mean the entire prescribed quantity must or should be taken.  A few days of opioid therapy up to a week, if necessary, would be ideal.  Be sure to consult with the doctor prior to implementing any change in prescribing orders.
What else can parents do if their child is in pain?
Parents, incorporate the following non-drug strategies to help relieve your child's pain.  Use these to "de-emphasize" the opioid medication your child may be taking:
Give plenty of cuddles and attention.
Show the child that you are taking their pain seriously.
Tell them what is happening using words they can understand. Fear and anxiety are known to increase perception of pain.
Reassure them that their pain will be managed and that the treatment (such as an injection) will be less painful than the pain itself.
Allow your child some control over the situation – for example, they could decide whether to take their pain medication as a syrup or tablets, and ask what flavor of syrup they prefer.
Distract your child with games, books or favorite television shows.
Icepacks or heat treatments can reduce pain. Ask your doctor for advice.
Some approaches only increase a child's fear and anxiety. Unhelpful strategies that are best avoided include:
Fake reassurance – don't tell them that a procedure, such as an injection, won't hurt when you know it will
Belittling – don't ridicule your child for acting 'like a baby' in the hope they will respond with bravery
Being anxious yourself – don't fixate on their pain or scare them with gruesome talk about future suffering they may have. Research shows that a person who expects the worst will perceive their pain as more painful.
Click on the following link to learn more:
Finally, don't wait until you suspect an opioid problem with your child.
Be proactive.  Know these Warning Signs to prevent or stop opioid misuse abuse.  Individuals prone to abusing opioid medication do not advertise the fact but often exhibit certain traits that can be signals to health professionals or loved ones that the person is at risk and may need monitoring or intervention. 
Opioid Medication Misuse / Abuse Signs:
Depression
Loss of interest in personal appearance or activities that used to bring enjoyment
Low self-esteem
Feelings that the individual does not fit in or is not popular
Feeling sluggish or exhibiting sleep disturbances
An aggressive or rebellious attitude toward authority figures
Difficulty paying attention
A shift in pattern of attending social functions
Vague physical complaints that the subject indicates need to be treated by drugs or exaggeration of medical problems
A family history of substance or alcohol abuse
Seeing multiple physicians for prescriptions ("doctor shopping")
Frequently borrowing money or having unexpected extra cash
Many times, the individual may employ deceptive practices, so watch for these signs:
Opioid Medication Deceptive Practices Signs:
The patient must be seen right away
The patient is visiting friends or relatives or is passing through town and cannot see his or her regular physician
The individual claims to be a patient of a practitioner who is unavailable, or will not name the practitioner
The individual requests only specific drug brand names and is reluctant to try an alternative or claims to be "allergic" or nonresponsive to nonopiate alternatives
The patient shows unusual knowledge of controlled substances
The patient claims that his or her prescription has been lost or stolen
The patient pressures the practitioner by eliciting sympathy or guilt or uses direct threats
The patient uses a surrogate, such as a child, when seeking methylphenidate, or an elderly person when seeking opiates
Click on the following link to learn more:
When understood, respected, properly prescribed and used, Opioids can be effectively used to help manage pain.  As you can see, using Opioids can also quickly create complication with some tragic consequences.
Remember….Opioids work by changing the individual; they do not fix, repair or cure….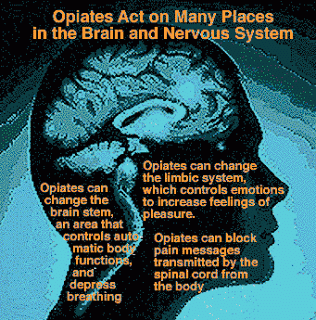 mypainweb felt compelled to share this important information to help parents understand the Opioid crisis and how this national healthcare concern is impacting our children.
Visit mypainweb for more valuable details and information.
The following link contains an extensive list of notable people who have died from drug-related causes:
Notable people drug-related deaths
While talking with your kids about Opioids share this extensive list to help reinforce the dangers of Opioids.